I had the chance to review the following products

These are the fanciest most stylish and accurate nail clippers you'll ever want own.
You get 2 stainless steel and zinc alloy fingernail and toenail clippers. Comes in a nice faux leather storage pouch. These clippers are very sharp and precise! Squeeze one time and the nail is clipped. no need to go over the same spot twice. They are designed to fit comfortably in your hand without slipping or fumbling to get a good grip. I love that is comes in a storage pouch. I always seem to misplace my nail clippers and now I'll know exactly where they both are. Provided I don't misplace the entire pouch!
So Far I Love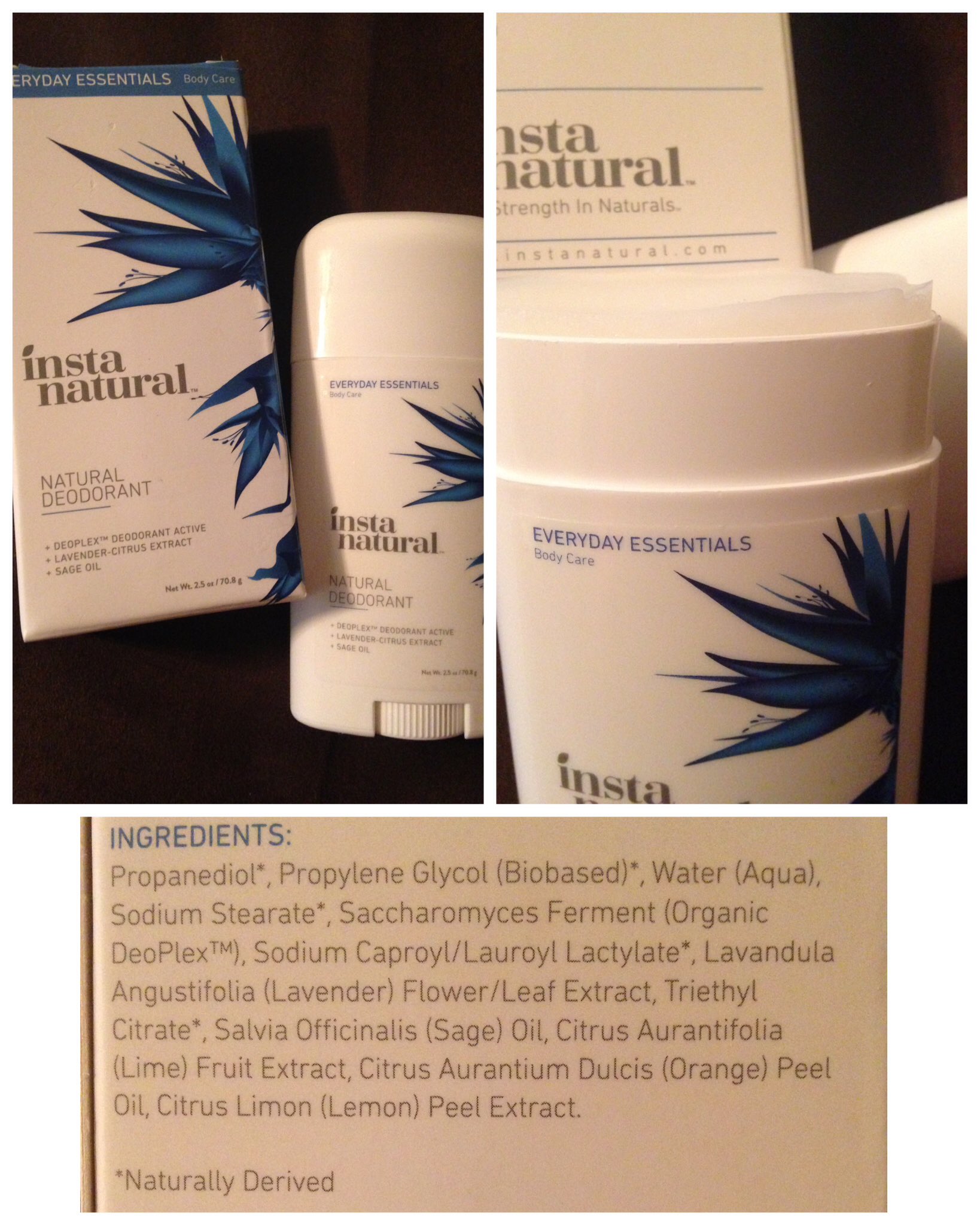 Everything About This Deodorant, The Ingredients, The Aroma, And The Feel. The fragrance is amazing but not over powering. It does leave a nice aroma on the clothes too. Now This Is A Solid Stick However, When Applied It Becomes Pretty Wet. It's No Longer Solid When Mixed With The Body Temperature. Its Almost As If You Are Applying A Gel Or Cream Deodorant. Which Means It Can Get A Little Messy. It Tends To Cake Along The Edges Of The Deodorant Tube. But It Does Dry And Absorb Into The Skin Very Quickly. Aside From That I Love It. #Instanatural
6 Large Bath Bomb Gift Set with Bonus Bubble Bath Soap.
WOW! First of all this is a wonderful set and a great gift for anyone. Women and men would both l
ove this equally as much. The fragrance that comes from the box is incredible and intoxicating. These are handmade bath bombs and at 4.5 oz each they are huge! Did I mention you get 6 incredible fragrance plus since this is a gift set you also get a bottle of bubble bath. Oh and these are #Vegan too, made with 100% pure essential oils and no artificial colors. I was very surprised just how big the whole set was when it arrived. It's a great price too. You're basically getting each bath bomb for a little over $3, making the bubble bath free. Bonus! Not to mention the beautiful box it arrives in, which can have other uses when the bath bombs are all gone. But here's the best part, there are no rings left behind in the bath tub, yes I've had this happen with other brands. Just what I need after a relaxing bath, having to clean the tub!
Catching ZZZZ-with lavender oil-For a good night sleep
Revive-with citrus bland with peppermint-Find your energy
Spa Day-with cocoa butter with honey-Moisturize for dry skin
Inspiration-with jasmine with ylang ylang-Smile & Relax
Pure Romance-with rose & sandalwood-Say HELLO to your sensuality
Stiff Muscles-with ginger & lemongrass-Pain and Stress Relief
Jelly lipstick with flower Temperature Change
The lipstick itself has to be the most beautiful I've ever seen. There is a little FLOWER in the center!! Ok ok aside from the obvious. This is a special formula designed to change it's color according to your body temperature after it's bee applied. I mean how cool is that? I put it on clear and it gradually turns to a light pink color. Since everyone's tempe
rature is different the color will also differ. I would love to try all of them to see if there is a difference. I just like to apply it while looking in the mirror and watching the color change. Never had so much fun putting on lipstick. It does last a good part of the day without having to reapply it. It's not sticky or taste bad and it doesn't have an odor either. It does moisturize the lips too which I love because I put on chap stick all day long. So this doesn't dry out my lips either. This is a winner in my book. #jellylipstick
Stainless Steel Ice Roller for Face &…
There are about a thousand little tiny gel balls inside the metal cylinder. Don't make the same mistake I did and open it up. Because those tiny balls will go everywhere! This was very
nice to have on hand during those summer hot days. Talk about finding a new use for it and getting cooled off at the same time. This is such a simple yet useful invention. I've used it for a headache and muscle aches. I've used it for my face and also to help soothe a sunburn. There are so many things you can use the roller for. I keep the cylinder in the freezer this way it's ready for whenever I need it. #IceRoller
Wow this little gadget is so powerful! With 20 levels of intensity, I was only able to with stand the second level. Anything higher was just way to
much for me. The different settings were amazing too. A wide range of several options such as "Knocking, Acupuncture, Abdominal, Brain, Feet, Ear, Kneading, Shiatsu, Vibration". Also offers 10-60 minutes intervals and an automatic shut off. This comes with everything you nee and is very easy to operate. The LED screen is also very easy to read.Each pad has a sticky side that stays in place on clean dry skin. These pads can be used virtually anywhere on your body. I've used it several times and still feel the effects long after I have removed the pads. It does a great job easing muscle pains and even menstrual cramps. There are so many beneficial uses for this type of massager. It's something I will use at least twice a week if not more. #TherapyMassager
Skinny Jane Weight Loss Kit, Quick Slim Kit,…
I received a 7 day slim down kit.. Which consisted of The chocolate shake, Skinny burn capsules, Skinny Cleanse, and TKO tea. Also, a 7 Day Eating Plan.
I'll start by saying the tea smelled amazing. The aromas were intoxicating and I just wanted to carry the bags around with me all day to sniff. It was that good. I actually thought the taste of the shake was pretty good. I only get chocolate protein shakes and this powder is very fine. I did not use a blender to mix it. I used one of those shaker bottles that has the ball inside to blend. I didn't have any clumps or loose powder stuck to the sides. I also tried it both with skim milk and water. It was not good with the water, I much prefer the milk. The capsules were easy to swallow.
I've tried many weight loss products from pills, to shakes, to liquids you put under your tongue. Everyone will have a different experience. Not only have a tried all of these different things I've wasted a great deal of money in the process. We are talking years and years of wasting money and I've never had any results. When I tried this product I did not experience the 5-10 pound weight loss. in 7 days. I only lost around 2 pounds. Which is actually a normal and realistic expectation. I did notice my
stomach didn't feel bloated and I was more energetic. I also wasn't hungry at all. I had to force myself to eat something. I followed the guide exactly and didn't stray from it. I was sad it was only 2 pounds but I figured it was a result nonetheless. Unfortunately those 2 pounds came right back the following week.
As for the cleansing, I had concerns at first. Usually Senna doesn't work well with me and I typically have a negative reaction. But this cleanser is so mild it only worked 3 out of the 7 days, for me. I didn't have any cramping or nausea. All in all if taken over the 30 days and you follow the guidelines, you will have some result.
#skinnyjane


Le Edge Full Body Exfoliator – Black with Gold…
Very effective little tool. My pores get so clogged and I have an issue getting them clean. Even with scrubs, exfoliates, cleansers. Nothing ever seems to be good enough. This is literally a blunt piece of metal you will be scrapping your face with. it is not sharp and it will not cut nor shave your skin. But it will remove the dead skin and all of
that nasty gunk from your pores. I did this after a shower as recommended. My skin was still slightly damp and pores open. Do NOT use this on dry skin, sun burns or if you have bad acne. I only use this once maybe twice a week. It really makes a big difference in the appearance and texture of my face. I noticed my skin felt smoother, without a moisturizer. This is also great for people with really sensitive skin. If you are someone that can't use products with those harsh chemicals this is a nice alternative. I do feel the price is a bit steep at $70. but since this is a fairly new product I'm sure that will come down significantly. I am so happy I was actually able to get my pores clean in my hard to reach areas. Mostly around my chin, nose and cheek bones. Keep in mind you will be scraping your skin so you will get red. But that doesn't last long and it doesn't hurt.
#leedgetool
This is a really nice set at a great price and I love the purple color. Everything fits nice and neatly inside the storage bag. This is
very sturdy and well made. I got this to give as a present to my mother who works in a doctors office. Not only did she get a lot of compliments from her co workers there was a bit of envy too. The Stethoscope is crystal clear and easy to hear. It's also very soft and light weight. The ear pieces are very comfortable. The only issue was the first time it was removed from her ear the silicone piece popped off and flew across the room. It just had to be put back on and pushed in tighter. The dial is the largest I've ever seen. Which makes it very easy to read the numbers. No glasses or squinting needed.
Natural Activated Charcoal Teeth Whitening…
Absolutely no taste. Now this says with cinnamon. Usually you can taste that regardless of how much is added. But I couldn't detect a hint of cinnamon at all. Also since this states its coconut shell activated charcoal. You will not taste coconut either, or e
ven smell it. This is literally a black tasteless odorless powder. I've used other charcoal brands before and what I like about this one is, there's not gritty feeling. I didn't feel like I was brushing my teeth with sand. One tip though, use a different tooth brush for the charcoal. It will turn your toothbrush into a grayish color. I learned the hard way. I do not use this every day, only a couple time a week, because it is mildly abrasive. My teeth really aren't yellow but I do notice a difference in not only the appearance but the feel of my teeth. I actually brush my teeth with regular toothpaste first and then i do the charcoal. This way I know I'm using it on a clean surface. It does make my mouth feel even more clean and fresh after I use it.
Menstrual Cup – Reusable and Comfortable -…
This is my first experience with a menstrual cup. I've heard a lot about them and tried to read up to get more information. It took me way
out of my comfort zone to finally decide to give it a try. Since I'm over 25 and I've had a child I purchased the large cup. The cup itself is soft and pretty flexible. I followed the directions and I folded it in half then folded it again to form a C shape. It took a little getting use to as far as inserting it. Once in it was actually pretty comfortable and I didn't feel it at all. My biggest issue I had was removing it. I wish the stem was just a little longer because when I went to remove it, I couldn't find it. Talk about panicking. I had to relax my muscles otherwise I wouldn't have been able to get it out. It went so high up inside of my I was scared that the stem would snap since it's so thin and short. So practice definitely makes perfect and I need to build my confidence in order to use this. #brisacup

red headed honey's Combo 3-pack Lip Balm:…
I am a constant lip balm user. I have tubes everywhere so I am not without. I have tried all different brands. Some I like some not so much. One aspect of this lip balm that I really like
it that it offers an SPF 15. An SPF is a requirement of mine before I consider using any brand. I also love that they use local honey. The propolis is great for my daughter is gets severely chapped lips. I love the coconut. Its a mild coconut aroma. All three really make my lips feel soft and more hydrated. Which is a much especially right now with the weather getting so hot and being out in the harsh sun. I like that they do not have a synthetic taste either. If you happen to lick your lips it doesn't leave a foul taste in your mouth. It's also a great price at only $3.00 a tube for such a natural product. It's not loaded down with all of those harmful chemicals that are actually proven to dry out your lips even more. #lipbalmcombo
BrightTouch® Sonic Face Cleansing Brush -…
I have always wanted to try a face cleansing brush. All of the other brands I've seen are usually the kind that have a spinning head. I worr
ied about it being to abrasive so I never got one. I came across this one which works with vibration. The brush does not move. It's almost like a sonic tooth brush. The main tip I can offer is, if you are a makeup wearer, wash you face first before using this brush. Reason being if you have a face full of makeup and then use this brush it'll literally turn the white brush to the color of your makeup. Then it's one more thing that needs to be cleaned. This did a great job cleaning my face. It wasn't harsh at all. I felt my skin was cleaner when I was done using it. It's also a good thing that this is water proof. Because the water does get under the brush and can pour out when tilted a certain way. I learned the hard way because I got water all over me. So I suggest leaning over the sink and not standing straight up. #BrightTherapy
As soon as this arrived I stuck it in my daughters sneakers, since she wears the same pair every single day. The inserts are odorless and seem to help remove the moisture from her shoes.They are not large and fit perfectly inside with plenty of wiggle room. So they will certainly fit into smaller size shoes. I don't like using chemicals and I didn't want to put sprays in her shoes. I've tried powder before but that is so messy and
really doesn't work anyway. I put these in her sneakers everyday after she gets home from school and I have noticed a difference. It's certainly easier and cheaper then having to replace smelly shoes. #moodyzookboss
I have never heard of fiber lashes until not. I've only used regular mascara up until now. SO as a newbie this was my first experience using something like this. You really do need to read the directions before you use something like this otherwise you will completely mess it up and it won't go on properly. You will also need to practice a few times before you get just the right technique and can apply it accurately. I don't understand the negative reviews because there is absolutely no odor and you most certainly do not need to use regular mascara in addition to this. The gel holds the fiber in place and is most certainly the mascara as well. I only wear black mascara and that's what this is. The gel needs to be applied first then the fibers and once again the gel. You can continue to do it if you'd like depending on the amount of length and thickness you are looking to achieve. As I
stated it does take practice. In the beginning I would end up with little fibers on may face, under my eyes etc. It almost looked like I just received a hair cut and some cuttings were left behind.
This never irritated my eyes. Obviously you need to apply with care otherwise fibers will get in your eyes. So don't rush it. As far as it being water proof I'm not entirely convinced. This comes off easily with very little effort. But I do like the dramatic effect it creates. It's not a mascara I use every day but I am pleased with it over all. #LashFactory
T-Spray Cosmetic Teeth & Oral Spray For Fresh Breath And Moisturized Mouth – Say No To Bad Breath, Dry Mouth, Cavities, Sensitive Teeth & Gum Disease
I am obsessed with this Green Tea flavor of this breath spray. I tastes so good!! Tastes just like
green tea. There are other flavors available such as cranberry and cool mint. Normally I leave to the minty flavors of breath spray but I really wanted to try something different. The biggest complaint I have is that the bottle was not filled to the top. I feel a little short changed because it was only a little more then 3/4 full. The pictures on Amazon show that it's full to the top. Why not mine? It does a great job making my mouth feel fresher and cleaner. It really made me feel more confident when talking to someone in close quarters. #ToothfilmUSA

Coconut Oil – Pure Fractionated Extra Virgin and Raw
Coconut oil had so many health benefits I could take all day listing them. I've tried other brands in the past some inexpensive and some that cost a little bit more. For the most part they are basically the same. But the qua
lity is something that can certainly be noticeable. For this particular brand I noticed I didn't have an after taste like I've experienced in the past. I like to use coconut oil for oil pulling. When I did that I always had an after taste which wasn't necessarily very pleasant. But when I used this one I did have that issue. For me an after taste is a huge turn off and makes me not want to use a product as often as I should. Since this brand has a pleasant taste to it I will be more prone to using it and sticking with it. #coconutoil
NEW – Valentia Royal Rose Hydrating Serum – For Sensitive Skin – Includes Rose Damascena, Organic Rosehip Oil, Niacinamide (Vit B), Evening Primrose, Bearberry, and Lavender – 1.18 Oz
I've tried many Valentia products, almost all of them. Some I liked some I thought were ok. I l
ove the natural ingredients they use and the hint of rose fragrance in this serum. It's not overwhelming or to perfumey, but very mild. I apply this one to two times a day depending on my mood. Its recommended to use one to two pumps. I used one to one and a half pumps each time. I can honestly say that after a short time of using this product it's really made a noticeable difference in my skin. I've had many compliments and I rarely ever get compliments about anything. My face feels smoother and the overall appearance even looks better. I also have combination skin, that has become more even too, no more oily and dry spots. I wish I had a vat of this stuff because it is one of the better products I've used. #valentia
Locas Biju Handmade Black Suede with Zamak Silver Circles Bracelet (Jewelry)
This bracelet is very light weight, so much so that you will forget you are wearing it. I personally don't like heavy clunky jewelry so this works out well for me. It's a nice simple design that will go with anything you are wearin
g. With the clasp in the back you can make it slightly bigger or smaller. I have small hands so this actually just slipped right over my hand. I didn't need to undo it at all. If you do need to unclasp it, to get it on and off, it's very easy to do with one hand. I do wish I could get it just a little smaller so it fit my wrist a little better. Since it's so loose on me the infinity circles tend to turn around on my wrist and face downward. But this happens with every bracelet I wear so I'm used to the fact that I'll have to keep adjusting it to face in the upright direction. #locasbijuamazon
Mystic Ayurveda Healing Crystals – 7 Polished, Engraved Stones to Balance Chakras Holistic Health Care Products
This is my first experience with healing crystals. I've always been interested in chakra but haven't had much opportunity to explore it. The first set of healing crystals I received are labeled as mini healing crystals. They appeared to have been engraved by hand and not engraved very well. The designs were a bit shaky and messy. There was gold paint all over a couple of them and a few of the stones were very light in color not vibrant at all. The "purple" stone was almost completely clear and white. I contacted the company and they immediately sent me a replacement set. The second set I received were larger stones and even marked "large healing crystals".
The replacement crystals were beautiful the engraved designs and colors of the stone were as advertised. The only problem with one of these stones is that it looked like it was broken in half and glued back together. The stones are polished and come in a velvet travel bag. I am able to carry these around with me every where I go. Overall I am happy with the healing crystals (the second time around).  #LoveParkProducts
Hair Styling Straightener Brush by Straight N' Shine – Electric Ceramic Flat Iron Brush with Heat Insulation Tips, LCD Display, & Automatic Lock Buttons – Hair Flattener plus Free Comb & Travel Bag (Misc.)
I've tried other straightener brushers and they are not all that they are cracked up to be. I will list my pros and cons for this particular brand.
* I really like that the this has a swivel cord. makes a big difference when you're using a brush like this.
* The best feature is the auto lock, you can not accidentally shut it off or change the temp while using it.
* This does not have silicone or rubber tips added to the brush bristle tips. (yes that's a good thing) With out those tips it won't pull, tangle or break your hair.
* The on/off button helps get it out of the locked setting
* Position of the controls is in the middle of the handle not along the side, like other brands
* Light weight and not heavy to hold
* These bristles did not hurt my head, you still need to watch how hard you are brushing your hair because these are not soft bristles they are ceramic and if you bang it on your head, it will hurt
* I like the velvet storage bag too. It's attractive and keeps everything together.
My only con is that the cord is not long enough for me. I wish it was just a little longer.
The comb was a little intimidating at first but it's an interesting concept. It does a decent job prepping and maintaining. My hair is very wavy and frizzy. This does not eliminate my frizz completely, but nothing I use does. But it does do a great job straightening my hair. I am able to use it on clean hair and if I've used hair products. I haven't had issues with is breaking my hair. This is far better then the cheap brands. #promotion

Midori Spring ECO Class Culinary Grade Matcha (100g) (Misc.)
I absolutely love Matcha. It offers so many wonderful benefits I can't imagine why anyone wouldn't want to use this daily. I've tried other Match brands and although they can be similar they can also be different. Others I've tried sometimes have a strong odor when you open the bag. This brand does not. It actually has a pleasant mild clean green tea aroma. I personally like to just mix a little in my water bottle and sip it
at work. I've tried it in smoothies and I've also made Matcha pancakes (which tasted really good)! There are endless uses and possibilities for Matcha. Next I will be making brownies…I can't wait! This Matcha is very fine and mixes perfectly. When I add it to my water bottle I just shake it up and it stays mixed. It dissolves nicely where as I don't have to keep shaking up my water bottle. It doesn't clump or settle at the bottom like I've experienced with other brands. It also tastes great hot. I'm very pleased. #midorispring

NEW – Valentia Clear Lift Revitalizing Serum – Natural & Organic Ingredients – Includes Wakame (Seaweed), Lactic Acid, Licorice, Gotu Kola and Argan Oil – 1.18 Oz – A New Beginning for your skin. (Misc.)
I've tried several different Valentia products. Some I liked a
nd some were just ok. I think this particular one has to be my favorite. It is suggested you use one to two pumps of the serum, which is more like a cream. I found one full pump does the trick and is all you need. It covered my face nice and evenly and absorbs rather quickly. I've used this before and after I put on a moisturizer, this is not a moisturizer. But it does even out the over all skin texture. I also noticed my makeup when on easier and more smoothly then when I don't apply this serum. For me this made a big difference. I only use it once a day and that's in the morning. I feel like it helps create a barrier on my face with out feeling heavy or greasy. #valentia

SlimWay Grapefruit Essential Oil Blend for Weight Loss & Appetite Control – 100% Pure & Natural Therapeutic Grade for Massage – 50ml

At first I thought how on earth could this eliminate anything? Such as hunger cravings, excess water etc.? Since you don't consume it there's no way this could possibly have that type of effect? Well after using it twice a day for about two weeks, I have to say those claims are fairly accurate.
The oil itself is pretty thick. I felt like I have to use a lot to cover the areas I wanted to cover. I only rubbed it into my skin from my belly button to my knees. As I stated I rubbed this on twice a day. Once in the morning and once at night. The oil made my skin incredibly soft, I really liked that. The aroma is pleasant and a bit strong. I didn't really realize how strong it was until I noticed people at work didn't want to be around me for to long. After I saw that the odor was bothering everyone I started to use it just once a day at night. It doesn't dry quickly so take that into considerati
on when applying and if you're in a hurry to get dressed after. This will rub off onto your clothes if not dried all the way. I did not experience any negative side effects either.
The first week I noticed I was heading to the bathroom a lot more then usual!! I don't know how it does it, but this oil does eliminate excess water. I suggest drinking a lot of water to stay hydrated. I also noticed I was not hungry at all throughout the day. I don't typically have a big appetite to begin with but once the night time rolls around I do get pretty hungry. Those hunger pangs are completely gone when I started massaging this into my skin. #phytopiaUSA
Pilates Ring – Premium Quality Power Fitness Magic Circle With Custom Resistance For Maximum Strength Full Body Toning and Core Workout – Includes Bonus Exercise Wall Chart (Misc.)
I've never done Pilates before but have been curious about it. I've seen these Pilates rings before and was never a believer in it. Looked like just another fad exercise gimmick to me. There's always something new coming out on the market and I thought oh boy here we go ago.
I had the opportunity to give this product a try and I'm really glad I did. My skepticism has changed and I am now a believer. The first thing I need to mention is the exercise poster that comes with it. There are three different workout levels beginner, intermediate and advanced. I of course started with the beginner. For each section there are 20 different exercises you can try that target all areas of your body. I couldn't believe how much of a workout I actually got using this ring. I started out doing an exercise for my abdominal area and WOW I could really feel it just after a few crunches. Normally I'd have to several before I felt any sort of tightness. Such a simple idea concept that brings a workout to a new level
. Each exercise on the wall poster has an illustration of the exercise, tells you the target area and goes into deal of how to actually perform it. This is a very handy guide.
The ring itself is light weight but very sturdy and strong. It has a soft foam covering which makes it more comfortable to use. I also really like that if you register the ring you get a 12 month warranty. That's a great deal! The ring itself is pretty big but thin so it doesn't take up a lot of room. It can be tucked under a bed, behind the couch etc. Nice piece of exercise equipment to mix it up a bit. #mantrasports
Neck Firming Cream – Best For Tightening Sagging Skin, Smoothing Face, Chest – Anti-Aging Skin Care for Wrinkles, Fine Lines – Daily Moisturizer or Night Cream For Women and Men – Advanced Dermatology (Misc.)
I am in my early 40's and have started to notice my skin is not like it use to be. A little certa
inly goes a long way. I really like using this lotion. I never realized the neck requires a different lotion then what you would normally use on your face. This cream is thick but absorbs very quickly. I massage it in and it disappears without caking up. I add a small amount to the tip of my finger and you really don't need any more then that. I have been using this twice a day. Once in the morning and once in the evening. I have really noticed a difference in the texture and appearance of my skin. My neck feels nice and soft throughout the day. This really lasts in-between each use. It also smells really good, it has a mild citrus fragrance to it (since citrus is an ingredient). The first ingredient is water and the second is a sesame protein, which I've never seen before in any other product. I highly recommend giving it a try. #AnaitiNeckCream
Easy@Home Digital Upper Arm Blood Pressure Monitor (BP Monitor) with 3-Color Hypertension Alert Backlit display and Pulse Meter-FDA approved For OTC use, IHB Indicator, 2 User Mode, 2 Year Warranty
I am absolutely thrilled to have this blood pressure machine. It is extremely easy to set up and also use. You do not need any type of medical training what so ever. It comes with a vinyl storage bag that has a handle on top, which is perfect to travel with. Its very compact and light weight. The directions are very easy to follow. The tubing for the arm cup snaps in place and within seconds you're ready to begin. I cant get over how fast and accurate this is. Yo
u can set it up for different people and it also has a memory to recall the last reading. Im able to check my 89 year old grandmothers blood pressure without her having to go to the doctors office. Or to the pharmacy and sit in those huge public blood pressure monitoring machines, that are never cleaned after each person. I was even able to use it on myself with no assistance. The cup slides on and is very easy to adjust. Press the button, relax and its done within seconds. I also used this on my teenager and it was even fast for her. I really like the large easy to read LED screen. The readings are large clear print. I think the best feature is the color system. The monitor offers 3 seperate colors to take the guess work out. It helps to alert the user of any potential issues that may need immediate attention.
This is by far one of the best and useful items I own and it gives me peace of mind.#ArmBloodPressureMonitor

#1 Best Body Wraps-4 Wraps Plus 1 FREE-Now with More Pro-Active Ingredients-The Ultimate Body Wrap for Weight Loss-Most Powerful Body Contouring Wrap, It Works on Stubborn Areas-Stomach, Thighs & Arms
I was really looking forward to trying this. Wraps seem to be the new thing now a days. Unfortunately, on the second day I had a severe allergic reaction. This of course has nothing to do with the wrap and whether it works or not. But rather something my body rejected. I followed the directions as instructed and the first day I tried it I had no issues. However, the second day I had a very bad allergic reaction. The entire wra
p area irritated my skin and I broke out in a terrible rash. The rash lasted over a week and went through the healing stages, as any severe rash does. As we are taught in biology the body builds a natural defense to something it rejects the second time it comes in contact. There might be some type of ingredient on this wrap that I never knew I was allergic to. I contacted the company to notify them of the issue I was experiencing and they were very concerned about my well being. I was asked if I was allergic to caffeine, I am not. That might be something you'd want to take into consideration too.  They are very much customer oriented and take a great deal of pride in producing a good quality product. The shipping was also super fast. #thinbotanicals

Eternal Youth Exfoliating Scrub -Natural and Organic Ingredients with Green and White Teas + Tropical Butters – 4 Oz   Valentia is a wonderful company that really cares about what they put into their products. They truly have the customer in mind. I've used several of their products and I have to say they are one of the best on the market. it's so difficult to decide on what product to use and who'd good or not. This scrub smells amazing. But it's not to strong were it's overwhelming. The scrub itself does have rather large granules. Other brands I've used in then past ,the granules tend to be small and fine. I applied this two different ways once after I washed my face and once before I washed my face, just to see if there was a di
fference. There really wasn't. Both ways I've used this product my skin felt clean and smooth. What I love about Valentia's product is that it doesn't dry out your skin, none of their products do. I've gone through so many brands and have wasted so much money. I don't like using anything that dries out my face, that's not a good type of product to use. I've never had an issue with this brand.
Valentia Skin Detoxifying Clay Mask – Natural and Organic Ingredients – With Kaolin Clay, Hisbiscus & Cranberry Fibers – 4 Oz
I absolutely love the ingredients this company adds in their products. When you open the jar you will instantly notice the amazing fragrance. It smells so pretty. But it's not to stro
ng were it's overwhelming. I applied this right after I washed my face and the first thing I instantly noticed was, it slightly burned. It was more of a warming burn, then an irritation burn. I'd say this is a result of the detoxification process. It didn't last long and wasn't unbearable. When the mask dried it turned white. It did tighten my face a little, but not to the point I couldn't talk and it didn't flake off my face. It took a little effort to wash off but nothing to terrible. Once I washed it off my skin felt nice and smooth, even cleaner. The one thing I really likes is that my face didn't feel dried out, like other masks have made me feel. I didn't feel like I need to slap on moisturizer right away. #skindetoxifyingclaymask
YourlovelyfeetYourlovelyfeet Easy Use Electric Rechargeable Foot Callus Remover Essential Oils Spa Moisturizing Gel Socks
I've been using the gel socks for a little while now. So I decided to get the gel sock and callus remover as a present for my mother. I'll start by saying the socks are amazing!!! I've worn them while watching television. maybe about a half hour or so is all you need. The socks have a very pretty rose fragrance. It's a mild aroma and not overwhelming at all. After a short time of wearing these socks you're feet feel amazing to the touch! When I gave this present to my moth
er she was beyond thrilled. Because she knew how incredibly soft feet felt after I'd wear mine.
The callus remover is fantastic. I also love that its rechargeable. It's powerful enough to get the job done. you never realize how much dead skin is really on your feet until you use a tool like this. It also comes with a handy little brush to clean all that dead skin off. This company makes a well made product that does what it's supposed to do. This is far better then any brand you'd find in the stores. I've tried many of them, so I know. Several of my friends now want to purchase this too because they've seen the results. #GetLovelyFeet

Kawano Japan 2X Moisturizing Facial Tissue, Lint-Reduced 100% Virgin Pulp, Perfect for Seasonal Allergies or Sensitive Skin, Contains Glycerin, Sorbitol, Emulsifier, 2-Ply (Pack of 16) I always thought tissues were all the same. They are usually very convenient but also typically irritate my nose. When this package arrived I received 16 packs of th
e most amazingly soft tissues I've ever used. They are so soft they felt like cloth. My daughter and I have seasonal allergies, all year long. So we go through a lot tissues and our noses are usually dry and sore after blowing our noses so often. Once we tried these moisturizing facial tissues we never had that issue. These are not scratchy or drying at all. I've given out a few packs to friends and family members and they all loved it too. I am so happy I had the chance to try these out. These tissues definitely replaced the normal store brand I've purchased in the past. #kawanotissue

Briskbars Vegan Energy Snack I work two jobs, one being 3rd shift. On this particular day I worked all night, got a few hours of sleep and then had a very busy day ahead of me, then had to go back to work that night. I was exhausted and didn't know how I would make it through the night. I decided this was the perfect opportunity to give a Briskbar a try. Let me start by saying make sure you like coconut. I know a lot of people do not. With that said there is a few sprinkles of coconut on top but it's not at all overwhelming. It has a nice hint of coconut but you can also taste the chocolate as well. It's soft and slightly chewy, but not so chewy that it sticks in your teeth (which I don't like).
I've tried many different brands of energy bars and have always been disappointed. In the taste, the texture and even when they fail to live up to their "energy" claim. So my expectations were not very high when I gave this energy bar a chance. As I stated earlier in my statement I decided to give this a try after a very exhausting day. I was very pleased with the taste and texture. Within an
hour or so I even felt more awake. I was able to get through the night at work without so much as yawning one time! I was not wired or jittery, but as if I got my second wind. I was not feeling worn out like I did before I consumed this product. I ate this around 7pm and was wide awake well into the late morning. So when I got home from work and was ready for bed I had a difficult time falling asleep. Please keep that in mind as to when you decide to eat this, because you may be awake a lot later then you want. If you eat this in the morning you will definitely have the energy needed to carry you throughout the day. I was really surprised and highly recommend this energy bar to anyone that needs that extra boost. This is also a great company, very customer oriented. You will not be disappointed! #NewtoBB  Amazon

Pure Handmade Soap by Subtle Body Essentials
Let me start by saying I don't typically like bar soap. As for hand made soap I've always loved the way they smell but not necessarily how they felt. In my opinion bar soap has always left me feeling unclean and as if I have soap residue on my skin. With that being sai
d I'm very happy I had the opportunity to give this particular soap a try. It has certainly changed the way I feel about bar soap. I absolutely loved the ingredients added. And that the fragrance is nice and mild, it's not overwhelming at all. I also love that it lathers up! I use a body puff and gently rubbed the soap. The amount of lather I was able to get was even better then body washes I have used, while using less product. The true test would be after rinsing. I couldn't believe how clean I felt. My skin felt soft and smelled good. Again, not with an over powering perfum smell, the aroma is very mild. This is also a great company, very customer oriented. I highly recommend this product to everyone! #handmadesoap 
NEW! Ultra Plumping Hydration Mask by Valentia I have not noticed and "plumping" action after I used this product. But, I did like the way it made my skin feel. After I washed my face I applied the hydration mask. I left it on for 20 minutes. I did not experience any tingling or burning, with the exception of a mild warming sensation. It goes on clear and stays transparent. It does not make your skin feel tight or even greasy. The second time I Tried the mask I actually forgot I applied it and it was on for quite sometime. I did notice though the longer I had it on the easier it was to wash off. The first time I washed it off took some effort to get it all off, I'd suggest using a wash cloth. When I finally dried my face I loved how my skin felt! I noticed a big improvement. My skin felt soft the entire day! There is virtually no odor, so you don't have to deal with over powering perfumes or harsh chemicals. #ValentiaUltraPlumpingHydrationMask
Pumpkin Seed Oil – 1000 Mg – 180 Capsules I wanted to get this product for my mother who has urinary issues. She has tried so many different things that do not seem to help. From medication to botox, nothing eased the urge. This is a supplement that you slowly increase the dosage every few days. Although it has not eliminated her medical problems she states it is starting to help with the issue. Mother has noticed after a week that the "spasms" are not as frequent as they once were. She has had no negative side effects. She also doesn't feel the need to go as often as she did before taking this supplement. I am truly hopefully and confident this pumpkin seed oil will help her. I don't expect a miracle cure but any relief from her discomfort is certainly worth it! #NutriONN

Valentia True Glow Eye Cream The main thing I love about this product is the smell! I also love the ingredients, the first is water and the second is organic aloe. Both are necessary for healthier skin. I apply a small pea size amount under both eyes. A little goes a long way, if you use to much it will not absorb completely into your skin and will cake up. If you use a small amount it does absorb nicely. I apply it twice a day, once in the morning and once at night as suggested in the directions. It makes the skin under my eyes feel so smooth. I've even noticed the dark circles get slightly lighter. I'm very pleased with this eye cream. #ValentiaTrueEyeGlowCream
Dr Whitening Natural Teeth Whitening kit system I have to admit I was skeptical at first when I tried these. I typically use whitening strips and have also used the trays. I really didn't think I'd see any results of difference by using this product. But I was pleasantly surprised. Since I've used other whitening products through the years my teeth are not overly yellow. For me it's more of maintenance at this point. However, my trouble area is my front bottom teeth. They are slightly crooked and its difficult for whitening solution to reach where it needs to. The first time I used this I was amazed, it actually helped! For so long I couldn't get rid of
the mild yellowing on a few of those teeth but this truly worked! I love the fact that I'm not using more chemicals in my mouth. I like that there it no foul taste or odor. It is simply rubbing the yellow away. It did not irritate my teeth or make the sensitive. All you need to do it gently rub your teeth, do not do a hard scrub. If you do the white pad will break through the applicator (yes this is what I did). The second time I did not have the issue. The pads are also very easy to replace. #DrWhitening http://www.drwhitening.net
 Pure Garcinia Cambogia Extract PLUS Detox Cleanse SYSTEM I started out by taking two capsules of each supplement. Since I didn't have a negative effect I decided to increase the dose twice a day. So I took a total of four capsules in the morning then four in the afternoon. (Two from each bottle) I didn't experience palpitations or jitters. However, I did felt constipated and I noticed I woke up a lot during the night. But, noticed this was a very effective diuretic. Everyone is going to have a different experience. #dietkit
Premium Spa Gel Socks Essential Oils Soften Repair Treat Moisturize Dry Feet
Clia Skin Lightening Cream  I mainly wanted to give this product a try for the dark circles under my eyes. I have tried so many different things from creams to lotions to gel pads. Basically nothing helped. I don't expect it to go away all together, I'm certainly not looking for a miracle. I gave this lightening cream without really expecting to much, due to my past experiences. I apply it twice a day. Once in the morning and once at night. I applied it after I washed my face. I did notice a slight burning sensation. Most likely because I'm using it around my eyes and that is the thinnest skin on your face. The burning is very mild and doesn't last. The cream is thick but goes on smoothly and does absorb fairly quickly. After several applications I did notice my skin was starting to appear a little lighter. The dark circles are not as dark as they once were. To me that is certainly progress! As long as you're not looking for a miracle or even drastic changes, I recommend using this lightening cream for subtle results. #PremiumSpaMoisturizingGelSocks
Peppermint Essential Oil by Simply Earth I've just recently started to use a diffuser with essential oils. I've noticed some are stronger than others. The peppermint essential oil is not overwhelming at all. It offers just the right amount of fragrance. Which is good because I'm sensitive to strong smell so. This particular scent is especially nice this time of year. I'm very pleased with this product they offer. This is also an amazing company that helps raise money to support many wonderful causes.
Asana Skin Lightening Cream 4oz I have never tried a skin lightening cream before and I wasn't really sure what to expect. I have fairly sensitive skin and this product didn't irritate my skin at all. It is extremely light weight and has a watery yogurt consistency. I'm use to thicker type creams, moisturizers and such. So when I was holding the open container and leaned over to pick something up, this poured out. That was my fault. But it gives you an idea of how thin and creamy this is.
I did not use a lot and put it on right after I washed my face. It absorbs quickly and I couldn't feel it on my skin. It didn't make my face feel smooth, but that's not really what it's for. After only a couple days of using it I noticed an improvement in my skin tone. I have mildly uneven skin tone and this is helping to level that out. I even notice more of a brightness to my skin. I feel like the negative reviews on here are by people that expect miracles. Perhaps those that have severe discoloration or very dark spots. I don't know how well this will help in those situations. Mine is not so severe. However I do have dark circles under my eyes and I've tried product and product to help minimize that. Nothing has worked until I've tried this. I do notice the circles have lightened. I certainly don't expect them to disappear. #asana

New Way health Thyroid Support 2 capsules a day to help support Thyroid function. Two month supply in one bottle! That's a great deal!! Easy to swallow gelatin capsules. 100% money back guarantee. You'll find every thing from Kelp to ashwagandha for over all health and Thyroid function support. I'm very thankful I came across these and started to take them. It really makes a difference! #nwhthyroidsupport

New Way Health B-100 Complex B-100 complex. Take only 1 tablet a day. Over 3months supply in one bottle!! These are a little large, but you get a lot of vitamins in one tablet! Certainly worth it in my opinion. Easy on the stomach did not upset me at all. I did feel more energetic too! This is also a great company to deal with very customer oriented! #NWHB100
Midori Spring Organic Ceremonial Matcha – Gold Class – Premium Japanese Green Tea Matcha Powder [Certified USDA, JAS, Kosher] (30g)I've tried matcha from other companies this particular one is definetly a higher grade. 100% organic, vegan and gluten free. The taste and aroma of the green tea is amazing, far better then others I'v
e tried. I also love the rich green color. So far I've only had it mixed in cold water and I sip it through out the work day. It blends perfectly in my water bottle, I never have clumps. I look forward to following the directions on the can and having it hot. Will be great for when the weather gets colder. I feel like I have more energy too. This is definitely something that I'll add to my daily diet to take advantage of all the health benefits green tea offers. I highly recommend giving this a try it really is a great product.
Lemmings2Lions Pure Triple Strength Omega 3 Fish Oil #lemmings2lions
Since it is fish oil there is a mild fish smell. There was a trace of odor on my hand when I took the supplement out of the bottle. Aside from that I had no issues or side effects. It's easy to swallow. I didn't burp up a fishy taste and there was no unpleasant after taste. It didn't upset my stomach either. I've experienced that with other brands. This is definitely a higher quality fish oil than many store bought varieties.
Legend Organic Premium Organic Matcha Green Tea Powder (Usda Organic) Ceremonial Grade #legendorganic
Keep in mind this is only one ounce of high grade organi
c matcha. It is very concentrated and you don't need to use a whole lot. It's recommended 1/2-1 tsp daily. I've been using a 1/2 tsp. I've only been adding it to my morning protein shakes. It's mixes very nicely and easily. I use a protein shaker and I haven't had and clumps. The powder is a rich dark green and you can distinctively smell the green tea. I have not had any negative side effects. Green tea has so many wonderful benefits I'm thrilled I came across this product.
Green SuperFood Tri-pack #AHHmazing I really liked this product. Made by Amazing Grass, and the powder is as green as grass! I decided to add it to my water bottle to have throughout the day at work. It mixes nicely but you do have to shake it up every so
often before drinking. It does start to settle at the bottom after awhile. I like that I'm getting all of these healthy nutrients in one sitting. I tried all three flavors and to be perfectly honest I didn't notice much of a difference in the taste. they were all pretty similar to me. But I would certainly try this again!
Lavie-Organique, Lavinia Borcau Skin Care
This day cream is wonderful. It is thick and goes on smoothly. However, it's not heavy. I couldn't feel it once it absorbed and it does absorb quickly. It made my skin feel soft and smooth. I love the natural ingredients and the fact that there are no "impure or unsafe ingredients added. They do not use parabens or anything synthetic. When you open the lid there is a small spoon in side that unfolds. I thought that was a really nice touch. Since there have been many times I could not get the last bit of moisturizer out of the jar from other brands. The first thing I noticed when I put this on my face was a very light hint of lemon fragrance. After I looked at the list of ingredients I noticed there was in fact lemon, although very low on the list. I'm really glad I had the opportunity to review this product. They offer a whole line of skin care and I would to try the other products they have.
OptimalXT Detox and Cleanse Weight Loss Product This colon cleanse is VERY effective. Within 15 hours I started to see just how well it worked. It continued to work over the next two days, after only taking it once. I took just two capsules as recommended. I did experience an occasional mild cramping. But I also felt relief. I've used other brands where I experienced a great deal of cramping and no relief what so ever. This is a nice natural cleanse for total body health.